About The Infamous Project
ABOUT THE INFAMOUS PROJECT
Welcome and thank you for visiting my site. If you are not sure what it is all about then please read on. The Infamous Project, T.I.P, was a LIVE blog which ran from January 1st until March 11th, 2010. During that time followers were be able to watch LIVE via this site, the customization and modification of 2 cars. The cars featured were: a 1992 BMW AC Schnitzer and a 1987 Mustang GT Convertible. Both these vehicles were completely transformed in under 3 months time.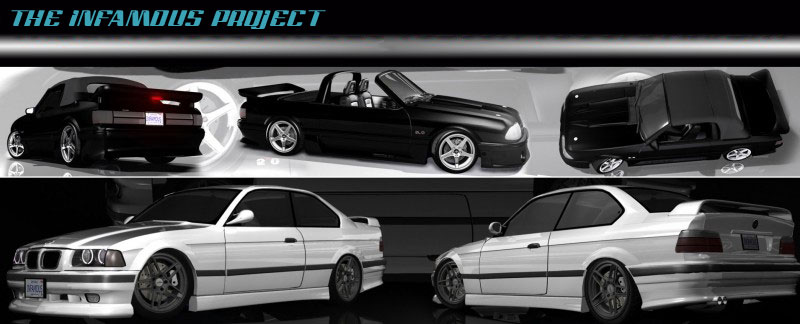 The time was less than 3 months, there were 2 cars, and there was one individual, me. I worked from home with average tools every day after I was done my full time job. With the help of some close friends here and there, Infamous (myself) delivered not one, but two, custom built cars and revealed them at Performance World Custom Car Show 2010 at the Toronto International Center.
The idea of this concept originally came to me when a friend was talking about "Blogging". Out of nowhere the idea popped into my head. I did nothing differently compared to what I have been doing for the past 12 years except for make my work available on demand for anyone with similar interests to watch!
Want to see some completed projects? For specific information on each car please follow the links below!
Chris Savard (a.k.a. Infamou$), labels himself as an automotive puppeteer that has been modifying cars for the past 2 decades. He has has traveled the world for both work and pleasure where he has maintained a professional career working in a 3 piece suit by day and by night he's in his dickies and ball cap working on his projects.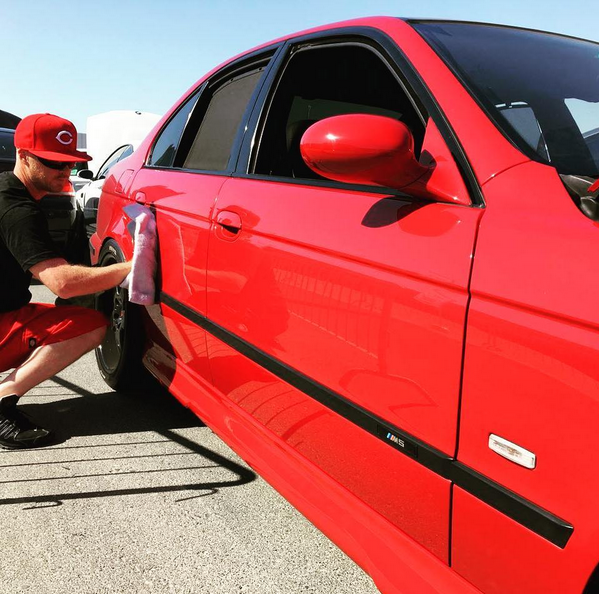 1st Place – Modern Modified @Bimmerfest 2015 -Dubai UAE Autodrome
Although Chris' current collection of builds varies between American, European and German cars it all started with the 5.0 Foxbody Mustang. Although many people believe his love for Mustangs was based on a 1990 Vanilla Ice song, his car obsession actually began at age twelve while watching 'Cain' buy his 5.0 convertible in the movie, Menace II Society. At age 15, his dream of owning a 5.0 Mustang came true in the form of a 1983 GT for a whopping $1500. The condition from his father to owning a "FORD" was that he strip it all down and put it back together before getting his license and driving it. In other words, the car needed work!
Since the success with his first car, he has bought, rebuilt/modified and sold over 50 vehicles in his spare time over the past 20 years. The "Infamou$" handle was given to Chris at a young age since few could understand how someone so young was buying, selling and driving such nice cars without selling drugs. Instead, he used the power of cross border sales and currency variations through car parts on eBay in his spare time.
The Infamous Project originated almost 10 years ago when Chris decided to build 2 cars in 3 months in his garage and stream the progression live via Ustream: About TIP. Although busy with everyday life and even from afar, The Infamous Project is a full time hobby of which Infamous continues to devotes 10+ hours a week to whether blogging, researching the next build, or initiating new projects.
Although he prefers certain types of vehicles, he sees almost any vehicle as blank canvas ready to be made into a one-of-a-kind "Infamou$ Custom". With a primary focus on timeless appearances and performance, each vehicle is modified to produce a level of quality that he would personally be proud to drive. He doesn't believe in cars not being driven and understands that form is just as important as function. It's not about winning shows, it's about nothing else mattering when you're detailing, driving, enjoying your passion he says.
Runner Up @ Performance World 2008 -Toronto Ontario