Well today was a nice treat, my friend Andrew got into town after picking up a bunch of packages from the UPS store in NY. Since it is cheaper to ship within the USA and brokerage fees can cost so much, it only makes sense to make the trip. We had the pleasure of opening a few boxes up today of some very nice parts!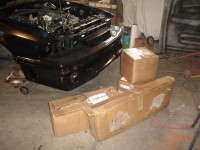 The boxes consisted of the following parts:
6 piece smoked headlight kit to replace the old kit which had the 1st generation purple corners
Turner Motorsports adjustable sway bar kit for the BMW with upgraded end links and bushings
Racecraft Inc. 2″ drop spindles (Don't miss this installation on Feb 20th!)
North Racecars complete Cobra rear disc brake kit for the Mustang
I am excited to be installing these brand new parts! The one side of the headlight kit is installed as the other side needs a new housing bracket for the headlight as the old one broke during removal. The Drop Spindles will be installed on Feb 20th so be sure to watch that! You can see the feature of T.I.P on Racecrafts website as well! The Cobra rear disc brake kit from North Racecars will be installed next week so be sure to catch that installation as well as these will be great guides for those wanting to know how to do it themselves.
Here is a shot of the engine bay as of tonight, some powder-coated goodies have been installed and a few things painted and cleaned up! Looking good, I can't wait to get the rest of the brackets back from Peterborough Powdercoating so we can get the supercharger and accessories bolted back on!!