DECH and Custom Rear Suspension
Some people may know and some not, of a company called DECH who made custom suspension parts for Fox Body and SN95 Mustangs back in the 80's/90's. Derek Hanson who founded the company just outside of Toronto Ontario was all about handling and performance, creating some unique and still desirable suspension components and body kits. A DECH body kit is shown below of my old 1991 5.0 Coupe.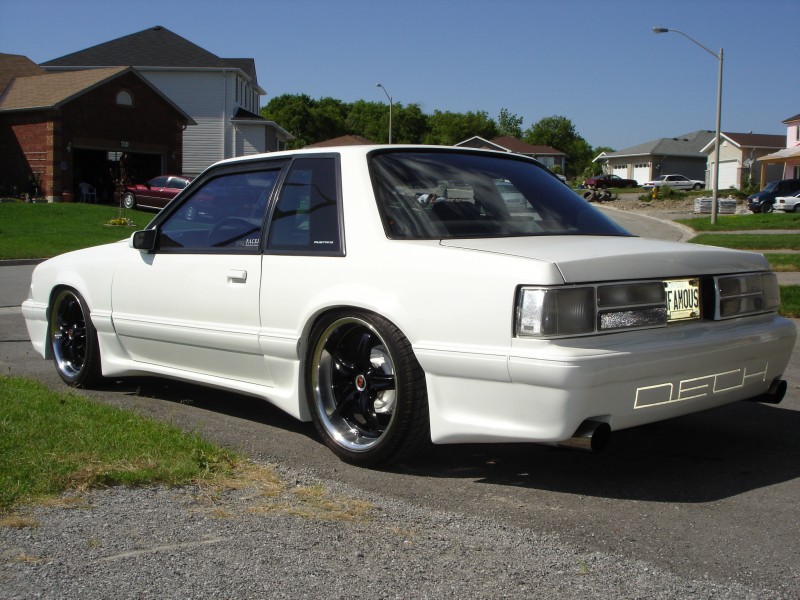 Installation of these Grabbers the first time I did it on my 1991 coupe was a bit of a pain but this time around was a breeze! Basically you jam the grabber onto your stock LCA mount and line up the rear shock mount hole. mark the 4 holes and start with a smaller drill bit and then go through with a 3/4″ bit to finish things off. Drilling slowly through metal is key. I had both sides done pretty quickly and you will need to drill from the back sides unless all your brake/back plate components are removed.
These grabbers basically reposition the mount point of the LCA down by about 3/4″. This allows for the pinion angle to change allowing for not only a 3/4″ drop in the rear but also helps eliminate nose dive. You will see in the following pics the installation process used to install the Grabbers and also my custom lower control arms.
The control arms used were once stock and then boxed up with plates for reinforcement. I then added a coil over sleeve from a generic coil over kit and ground off the original spring perches mounting the coil over sleeve to the LCA directly. With the use of washers and long bolt through from top to bottom we now have a adjustable spring perch for the rear! Plans to lower the car a little more are in the works however, I need to see how it will sit once all the weight is added back to the trunk of the car. The stereo, full tank of gas, spare tire and some other factors such as the convertible top down may just have the car sitting right in the back!