Made my own Gumball 3000 – #Dubai2Toronto
So I am sure like many others around my age, had seen the Teckademics Gumball Rally documentary aka Mischief 3000! This video made me dream of participating in Gumball 3000 since I saw it, it also influenced me to get into e36 and e39 BMW's, as you can see, I've now had many! Back in 2010 IIRC, I did attend the Toronto part of the Gumaball leg as I was in Canada at the time. It was a great experience to see the atmosphere and all of the cars. Although I didn't participate, I did manage to get a piece of the banner from the crowd control barriers which is a staple in my garage.
Several years ago after I had first moved to Dubai, I came really close to entering (2012) I was going to enter my 2004 SRT-10 Dodge Ram that was supercharged with the Paxton at the time. A good friend and I (just as crazy as me) were going to split 50/50 on the costs and I had even submitted the registration form and spoke with the organizers. Unfortunately when it came time to make the wire transfer for the registration, my friend backed out. Maybe it was for the better as I do believe that everything happens for a reason but it was at that moment that I knew it would be then or probably not for a long time! Many Gumballs have happened since but last year, I decided to do something different, -make my own Gumball Rally!
I bought my dream BMW back in summer of 2011, a 2003 e39 M5. Although labeled "Hate Red" as I do really dislike the color a lot, the Imola and the cleanliness of the car could not be passed up. You can see all of the information on the car
HERE
. Just about all of the modifications that I would ever like to do to the car have been done including 8psi of boost thanks to RK Motorwerks. I always knew that I would keep this car but needed to wait until it would reach 15 years in age before it could be imported into Canada. Last year the car was well into its 12th year when I came up with the idea of a cross USA into Canada tour. I managed to secure an EPA exemption from the USA that would allow me to legally drive the car on Dubai license/number plates for up to 12 months before the car needed to be exported from the country. You can read about this process (Coming Soon) on how to legally drive on Dubai number plates in the USA. I then shipped the car to my place in Texas where it would wait for me and my co-pilot to arrive and begin our journey.
Like the Gumball we set out to accomplish 3000 miles in 7 days! I would fly in from Dubai and my friend from Canada. With some really amazing stops and adventures along the way, it then included picking up another friend and having the 3 of us complete the trip where the car would get legally imported into Canada with it's experienced 15 years of existence and live free in North America. The route, stops and logistics took some time but it worked out extremely well. Here is the itinerary: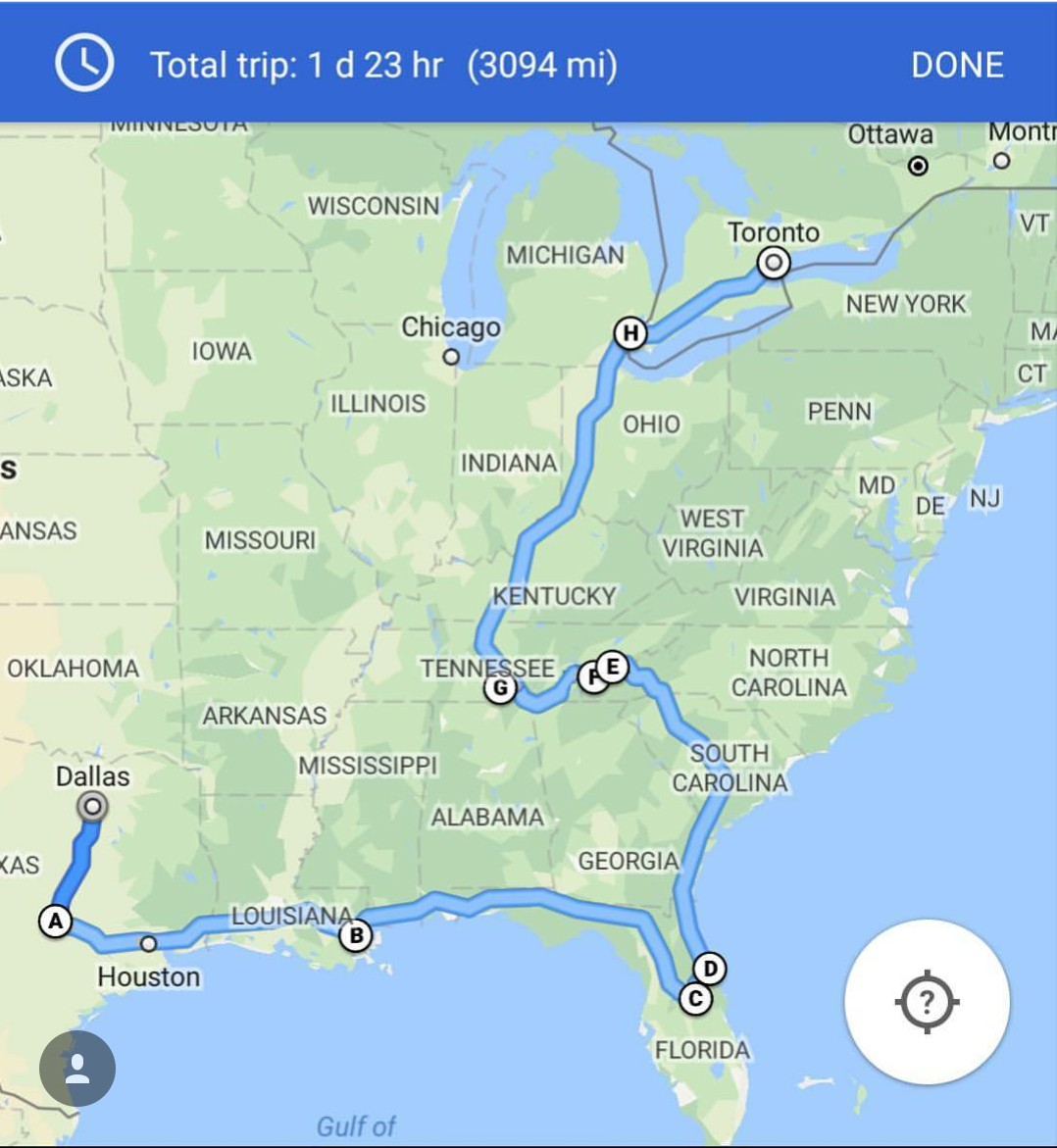 Fly into Dallas FTW Texas
Visit Arclight Fabrication & Gas Monkey Garage + Gas Monkey Bar & Grill for Lunch
Participate in Mud Nationals 2018 #mudnats with a friend from Texas
Drive to Austin to mountain bike the #greenbelt & pick up the M5 (journey begins)
Day 1 Drive to New Orleans Louisiana
Day 2 Drive to Orlando Florida (pick up 3rd person)
Day 3 Drive to Lynchburg Tennessee & Jack Daniels Distillery
Day 4 Drive to Gatlinburg Tennessee & Ole Smokey + Sugerlands Distilleries
Day 5 Drive to Detroit Michigan & Meet with Mobsteel + Detroit Pistons Game
Day 6 Cross into Canada end in Toronto Ontario
Day 7 Fly back to Dubai (1 friend stays, other friend flies back to FLA)
What a great journey it was, and although a bad valve stem resulting in a Flat Tire happened leaving Florida, it was a good thing as it was noticed that the belts in the tires were separating which could have lead to a blow out. Trying to find a 305/30/18 Nitto Invo was like trying to find a needle in a haystack! Believe it or not the only 2 available in the southern US happened to be in Tampa bay. We got the valve stem changed and hauled ass to Tampa to get the 2 tires swapped and 6 hours of delays later, we were on our way. At first we thought we would miss out one nights destination as originally we planned to hit Gatlinburg before Lynchburg, the hotels were super understanding and let us flip the nights. This meant a bit of backtracking but allowed us to shorten Day 3 up some.
An amazing trip that will never be forgotten. You can see the gallery of pics below showcasing the M5 in it's cross country journey. Met some amazing people, made amazing memories and for sure the old saying holds true "it's not about the destination, it's about the journey".
Tags: bmw, dubai2toronto, e39, gumball 3000, import canada, m5