Find Foxbody parts and I will pay you 5%!
Find Foxbody parts and I will pay you 5%!*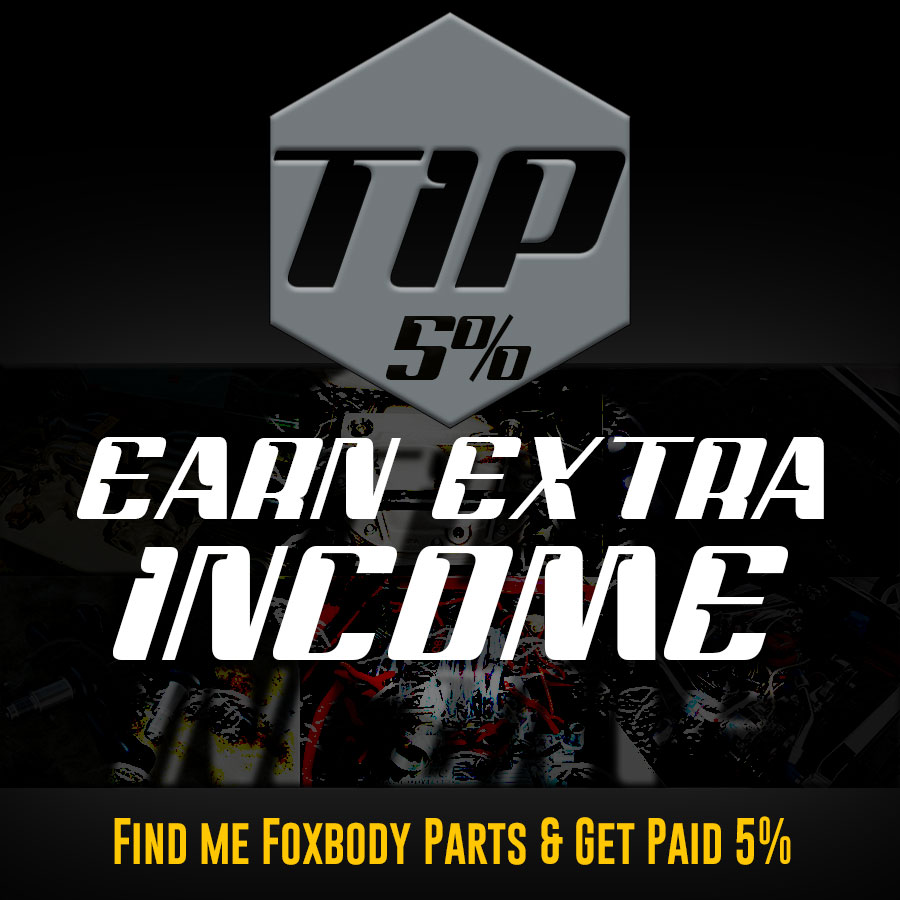 With all my builds, I am always looking for Foxbody parts and can't have my eyes looking on every Facebook Group / Marketplace, EBay / Craiglist / Kijiji / Mustang Forum out there! I know many of you are quite active online so I created this page for you guys to help me find what I'm looking for.
If you have some spare time and you find something on my list simply submit the parts or cars you think I might be interested in the form below. If I end up buying the part or car you refer to me then I will pay you 5% of the purchase price!
Check out below the updated list of Foxbody parts I am looking for. The list is frequently updated for parts and cars that I am interested in purchasing. *MAXIMUM of $100 for parts and $1000 for cars
Find the Following Foxbody Parts & Get Paid!
Item

Category

Description

Desired Price (USD)

1993 Cobras
Complete Cars
Complete Cars & Rollers Considered
$$$ All
1987-1993 GT's & LX Coupes
Complete Cars
Original 5.0 Cars Only - No Junk
Based on Condition
DECH Mustangs
Complete Cars
Original DECH Mustangs (Canada)
$$$ All
Cobra/GT-40 Intakes
Drivetrain Parts
Uppers & Lowers complete
<$400
Vortech Systems
Drivetrain Parts
A-S-T Trims (Complete)
<$1,500
SN95 Spindles
Suspension
94-95 Any condition
<$100
RaceCraft Drop Spindles
Suspension
Any
<$300
1/4 Windows
Exterior Parts
Coupe & Hatch -must be MINT
<$500
Black Interior parts
Interior Parts
Any MINT original 90-93 pieces
Based on Condition
Recaro Seats
Interior Parts
LX style preferred any condition
Based on Condition
Halo Headrests
Interior Parts
79-86 Mesh/Netted or Not
Based on Condition
Tweed Seats (coupe)
Interior Parts
91-93 tweed seats any color
<$500
ROH Wheels
Wheels
17" Minimum - ZS, ZR6 - 4 or 5 bolt
<$500
Borbet Type A Wheels
Wheels
17" Minimum - 4 or 5 bolt fitments
<$800
Stern Face II Wheels
Wheels
17" Minimum - 5 bolt
<$800

Last Updated March 21, 2020

I use PayPal for all payments!
Before submitting ask yourself the following:
Would I buy this part if I needed it?
Could I make money off off of this part if I wanted to?
Does the seller represent his product well?
If you've answered YES to all of the above questions then please proceed. Keep in mind that I will take into consideration shipping and logistics. I only want high quality parts so please do not submit junk!
Known Infamous for 10 years
Worked with The Infamous Project for over 10 years and more than happy to help a brother out and get me paid too since the guy is always trying to build cars all over the world lol. Seriously a good guy to deal with
I've made over $1500 from TIP
I've recommended many parts to TIP which has helped him find the parts he needs and give me a little extra money to work on my builds. Always pays up right away. Works out great because I'm always looking for Foxbody parts
Something is better than nothing
I'm always looking for stuff on Kijiji so if I see something I just send it off to TIP and sometimes I don't here a thing but then other times I am pleasantly surprised to hear back and that he's sending me some money!
Frequently Asked Questions - FAQ's