So tonight I didn't really get much done other than clean up and masking. Convertible are nice for the fact that you have less surface area to paint, however masking the tops off can be a little tricky! I got one door jam done on the passenger side as I ran out of tape before I could do the drivers side. The car is coming along well and the final masking and prep will take place tomorrow.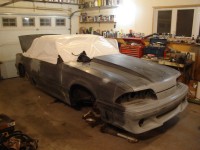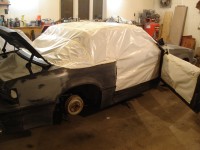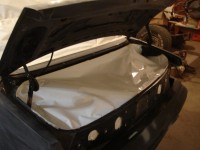 I will need to sand out a little bit of primer i sprayed on Saturday and I will need to spray a few tiny spots and sand where I filled a few minor stone chips. All the little tiny things that take so much work! On a positive note I did get word back from Nick at Peterborough Powder Coating and he will be dropping off some parts tomorrow for us! We won't be installing them until the car is painted but it's nice to know they are there ready to bolt on.
Our 4 wheel disc conversion is in transit courtesy of North Racecars, our 2″ drop spindles from Racecraft Inc and a set of Maximum Motorsports Caster/Camber plates. Providing all goes as planned all the fun stuff will be happening this weekend and next week! The re-assembly! Gonna get this car dropped down sitting on its 18″ Saleens. I have been away from the Mustang game for a while and I must say I am pretty excited to see the outcome of this car.