Foxbody Mustang Spring Rates & Comparison
Did you ever want to know the different types of Foxbody Spring Rates offered for your Mustang? Want to lower your Fox body but not sure which spring to use? Looking for that information about "what are the stock measurements?" I tried googling so many terms and visited numerous sites to try and centralize this information for you. First off, let's start with stock Foxbody suspension specifications and what is the stock Foxbody ride height? I have come up with the following image to represent what any 79-93 Foxbody's suspension measurements should look like.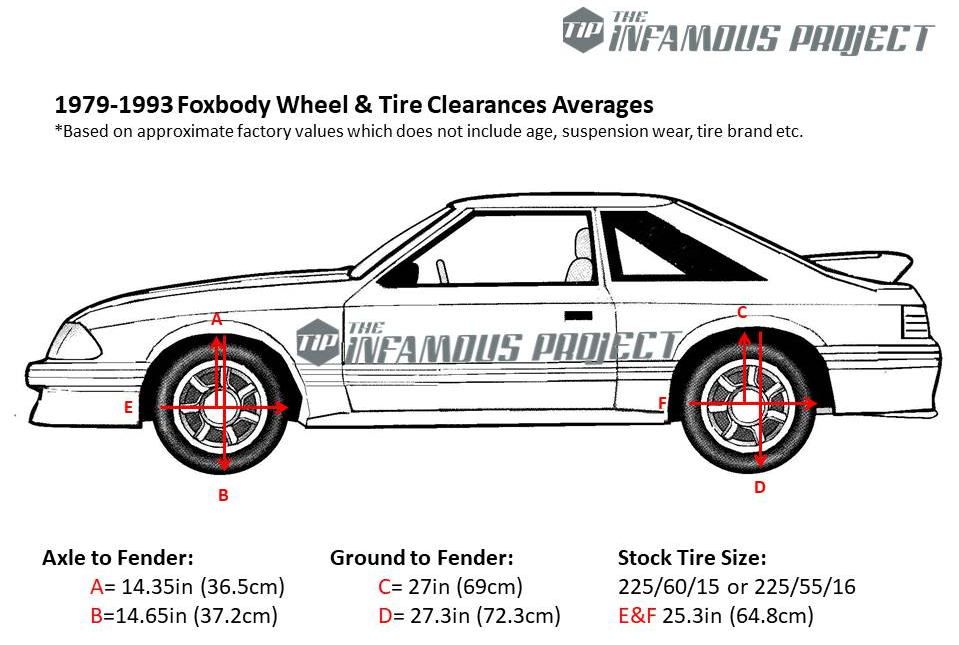 There used to be a website back in the day that had a lot of good tech on it but it's been down now for quite some time. I had the list of specs from it but its reference point was for the SN95. I have updated the table with current Springs on the market and their information and impact on lowering your Foxbody Mustang. This is includes Foxbody Mustang Spring Rates so you know your starting point and I have also included some other very relevant information for those of you thinking about installing coilovers on your Mustang! There are more and more options out there but it is important to do your home work and I have been doing this for years now to get my cars sitting right!
Aftermarket Spring Rates & Lowering
Spring Name 

Part No.

Front Rate (lb/in)

Rear Rate (lb/in)

Drop F / R (in)

Ford Motorsports B
M-5300-B
425-530
200-300
0.875
0.5
Ford Motorsports C
M-5300-C
650
200-300
0.875
0.5
Ford Motorsports F
M-5300-F
460-570
200-250
1.20
1.00
Ford Motorsports G Vert
M-5300-G
460-570
170-310
1.20
1.20
Ford Motorsports R
M-5300-R
700-850
200-260
1.90
2.50
DECH Speedrive
COR12
1000
210-280
1.50
1.50
Eibach ProKit
3510.140
425-530
200-300
1.20
1.00
Eibach Sportline
4.1035
425-630
140-295
1.70
1.50
Jamex Sportsprings
N/A
425-450
180-225
1.50
1.50
H&R Sport
51650
490-575
250-285
1.60
1.50
H&R Super Sport
51657-77
700-760
275-300
1.25
1.00
H&R Race
51650-88
750-850
260-280
1.75
1.00
H&R Super Race
51650-99
950-1050
260-300
1.75
1.25
Steeda Sport
555-8200
650
200-250
1.125
1.125
Steeda Competition
555-8240
850-1050
250
1.25
1.25
It's important to remember that between the coil springs and the control arms/body are rubber isolators that make up around . in additional ride height so depending how worn, or if you even install them, they can impact the overall ride height of your car. 
If you're looking to buy Foxbody Coil Overs there are a few things you need to consider and the number one is: You get what you pay for. There are several cheaper options available online however I have never understood how all regular coil springs have higher rates in the front than the rear vs these coil over providers who give higher rates in the rear than the front. I am still educating myself on all of the ins and outs of suspension as I am currently designing my own TIP Coil-over kits, but it seems that no one is taking it seriously. Don't get me wrong there are a few very high quality kits on the market but to give you guys some ideas here is what's CHEAP on the Street!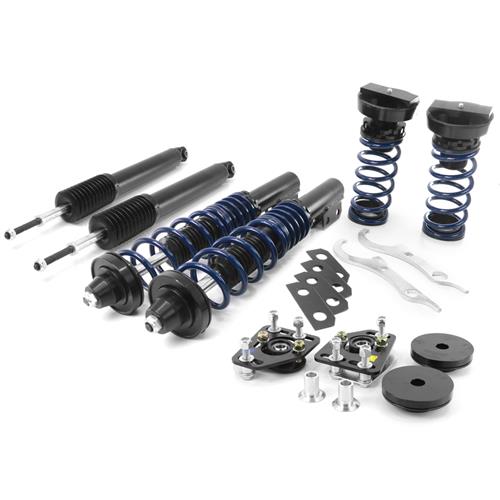 1"-3" Drop Range
220lb/in Front Spring Rate (3.9K)
250lb/in Rear Spring Rate (4.6K)
Adjustable Caster/Camber Plates
$749USD
1"-3" Drop Range
255lb/in Front Spring Rate (4.5K)
290lb/in Rear Spring Rate (5.2K)
Caster/Camber plates (optional)
Rear Upper Strut Mounts (optional)
$699USD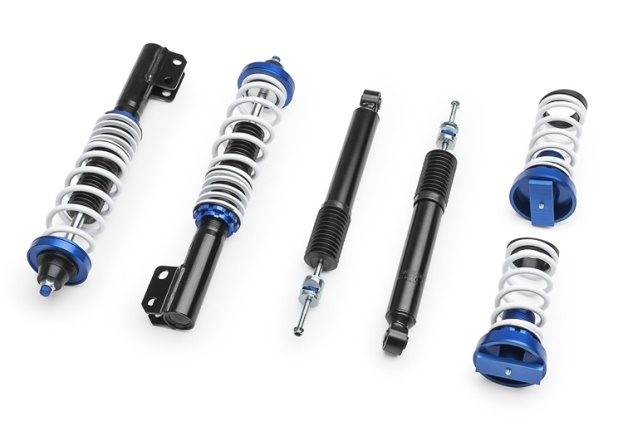 1"-3" Drop Range
255lb/in Front Spring Rate (4.5K)
290lb/in Rear Spring Rate (5.2K)
Caster/Camber plates (optional)
Rear Upper Strut Mounts (optional)
$699USD
Here are what appear to be a very well built Coil Over but I cannot speak for them as I have not used them personally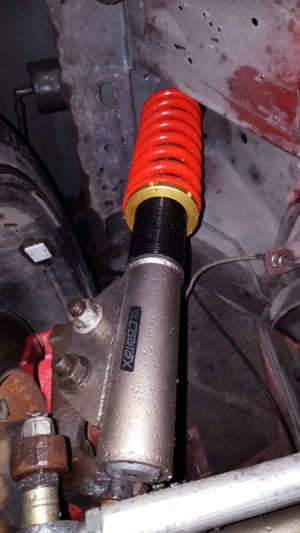 The JRI strut's low friction seal design has less stick-slip than other leading strut manufacturers. Innovative components like the extension cage, and meticulous attention to sealing any unintended bleed paths, JRI struts have less hysteresis than competing manufacturer's struts. The proprietary bearing carrier isolates side loads associated with misalignment that occur in normal strut operation.
Bulletproof steel housing and mounting brackets offer more tire clearance and reduced weight than bulkier aluminum components.
adjusts to high-speed extension
adjusts to low-speed compression or extension through the shaft
$4500USD
Custom Springs (Cutting, Coilovers)
Considering a custom set up? Or perhaps you are thinking of just cutting your stock springs or maybe even cutting your lowering springs. -I've have been cutting Ford Motorsports FMS C Springs for years as for me they were one of the stiffest/easiest to access springs on the market that road well when cut and I do still stand by it too! So if you are thinking of lowering your Foxbody by cutting your springs it is important to keep a few things in mind when it comes to spring rates and how they work. Have a look at the below chart!

G = 12,000,000 for steel springs (a constant)
W = Diameter of the spring wire
N = Number of active coils (number of coils that are free to move + 1/2 coil)
D = Diameter of the coils measured to the center of the wire
H = The overall height of the coils measured from end to end
Note: the relationship between the number of active coils (N) and the spring rate (K) & if you cut off half the active coils the spring rate is doubled.
Factory 1979-1993 Foxbody Coils
 Front Springs
W
N
D
H
K
0.65in
8.75
4.25in
15in
400 lb/in
1.65cm
8.75
10.8cm
38.4cm
7.0K
Rear Springs
W
N
D
H
K
0.55in
7.5
4.625in
13.5in
185 lb/in
1.4cm
7.5
11.74cm
34.56cm
3.3K
So when cutting your springs, you are impacting the spring rates. The shorter the spring = the higher the rate. Some may think, well wouldn't it be better to start with a "softer" or a lower spring rate so get a more comfortable ride? The answer would be yes but the reality is, by lowering you car you are not after comfort, you are after performance and you are not going to want a lot of travel on your suspension when lowered as this may impact shock/struts, bottoming out or tire rub.
I will be adding to this post and soon be doing a full write up on the importance of shock/strut travel and how to compensate for the loss in travel with your lowered Fox body Mustang and some other tips and tricks I have learned over the years. 
I hope this article helped inform you on Foxbody Mustang Spring Rates 
Tags: coil overs, coil springs, coilovers, cutting springs, drag springs, lowering foxbody, lowering springs, mustang, spring rates, suspension