New horse added to the stable! A true 1991 Dech Hatch
Never thought I would own another hatchback foxbody but when I saw the opportunity at this one I had to get it! A rare and original 1991 Mustang Dech modified hatch. Strawberry red on loaded black interior. The owner at the time had posted it up on a local forum I frequent, the Greater Toronto Area Mustang Club –
GTAMC.com
He was searching for what the value of the car would be worth should he decide to sell it. He was claiming that he bought it as a solid "daily driver" but after ownership found it to be too nice to drive daily. I of course immediately sent him a private message and asked what it would take to buy the car. It took some time and some going back and forth but we did manage to come to an agreement on price where he agreed to even store the car for me over the winter! This was important as the car was in Northern Ontario approximately a 14hr drive north of Toronto! Specs on the car are, Dech Street Package with:
As the winter passed I decided that this would make the perfect opportunity for a road trip when I would be taking my annual trip to Canada from Dubai. A good friend of mine agreed to co-pilot the trip and we organized some stops along the way back to camp at some provincial parks along Lake Superior, one of Ontario's many great lakes. The car was located in Thunder Bay where it had lived a decent part of it's life. Story has it the original owner had owned the car for many years where he had unfortunately passed and the car was then sold to a Mustang enthusiast who owned the car for a little while then sold it to the guy I bought it from.
In between the winter months, the waiting and planning of the campgrounds we were going to stay at, there was one problem. The car came with pony wheels. The owner had some 16″ ROH ZR6's but he wanted too much for them so I went on a mission to try and find a set of 17″ ROH ZR6 wheels or a set of 17″ Borbet Type A's. Both wheels very difficult to find these days especially in 4 bolt. After a few months of looking I managed to score a set of poorly polished Borbets off of an old Ford LTD for sale on a local classified site where the seller was nice enough to separate the wheels. I had them sent off for a full refurbish and wrapped them with brand new rubber! I knew these would complete the car beautifully.
So the trip began with me and my friend catching a ride North with some family who were driving that way so we shotgunned the 14hour trip direct to Thunder Bay where we checked out the Terry Fox Memorial, the Sleeping Giant and of course went to get the car! The car did present well and everything was in tact and functional, even the A/C worked! The cruise, windows, locks, hatch shocks it was all working and the black interior was in amazing shape. Not an ounce of rust anywhere and other than some few door dings and a few marks on the body kit to touch up, this was a solid car. Yep, I brought the Borbets with me and bolted them on right in the guys driveway! Also installed a new radio headunit with bluetooth for the long drive home!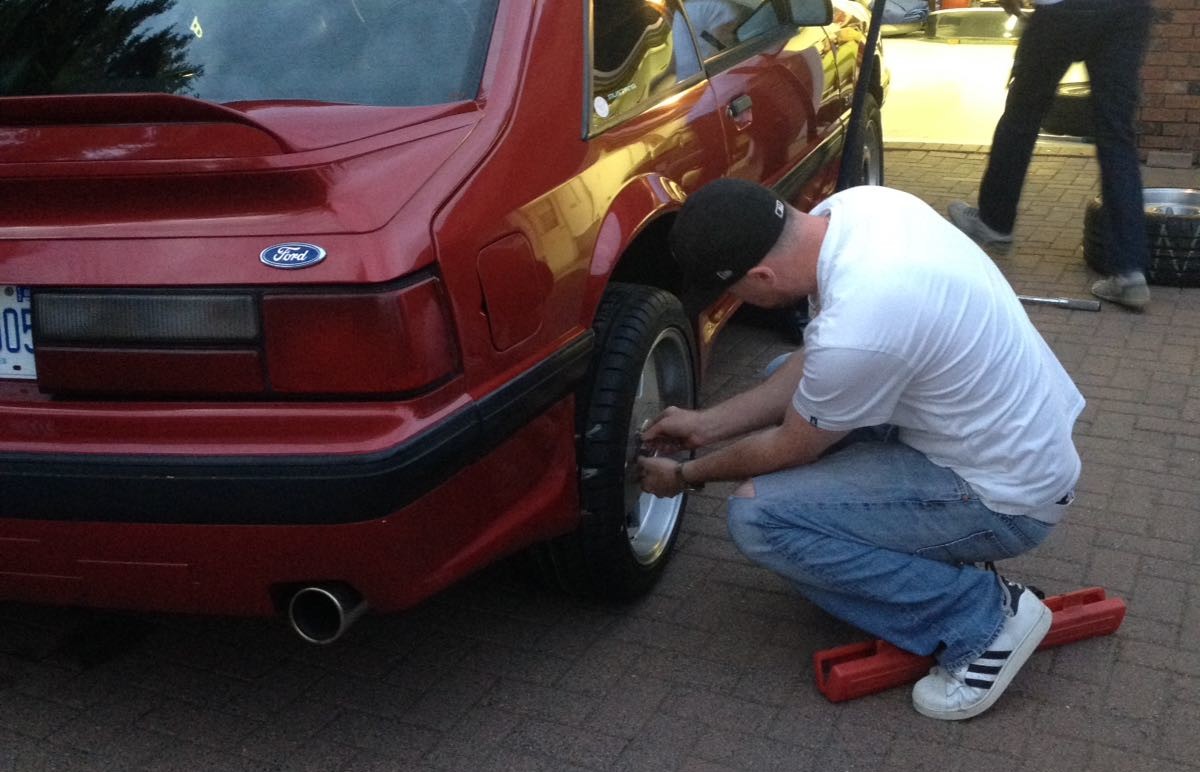 We began our journey back over 3 days, each night staying at some of the most beautiful campgrounds. The car drove amazingly well aside from the shocks and struts being a little tired over sharp bumps. Although I have never been a fan of Hatchbacks, the DECH stacked wing makes the car flow so nicely and the hatch worked great for our camping gear! We managed to sustain 28mpg on the drive and had an absolute amazing experience driving this car back.
Once back in Southern Ontario the car got some added attention in the short time I visited:
The car still needs to get painted from the moldings down with a few touch ups and the hood installed but I figured I would handle that after storage for this year. The car saw close to 2000 miles in 2 weeks time and didn't miss a beat! An amazing purchase, experience and memories included. Can't wait to have all my foxbodies together in one place!