1987 Mustang GT Convertible "Stalker Vert"
1987 MUSTANG GT CONVERTIBLE "STALKER VERT"
My Roots of vehicle modification are most definitely Fox Body Mustang! What goes as fast, looks as good, and is as cheap to buy? Nothing! For over almost 15 years I have been driving, modifying and creating example 5.0 Mustangs. I have always had one until late 2008 when I had to liquidate a bit of my vehicle inventory prior to departure for Australia for 10 months. The good news is, there is a new Project, this 1987 Mustang GT Convertible.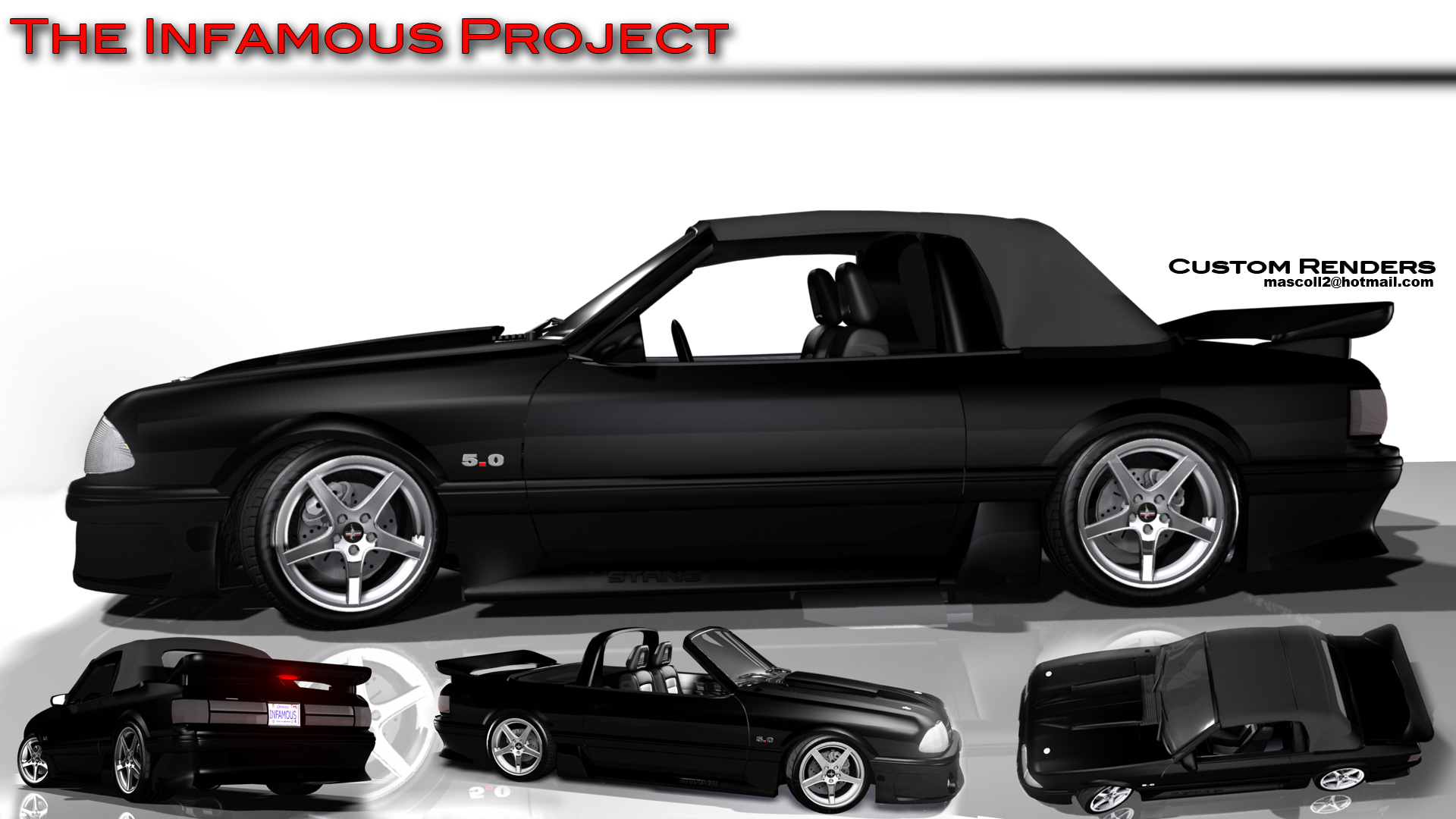 1987 Mustang Convertible – The Infamous Project Concept
This car in particular has had a bit history now! I originally purchased it back in 2003 when I was looking for another coupe but was in touch with a guy trying to sell his 1987 Mustang GT Convertible. It was a very clean and solid car but I told him he was asking too much. A few months passed and I had noticed the car went from having Black Interior to Grey Interior and then back to black again, turbine wheels to pony wheels and a bit of price adjustment. Having still not found the coupe i was looking for I messaged the seller again and we struck a deal! Please click HERE for the pictures as I bought the car originally and the original build up I performed.
Me and a close friend flew down to Florida and picked the car up in Miami, the Seller was kind enough to let us crash on his couch then gave us the boot in the morning! We proceeded to Daytona Beach for a week and then made our way home! Till today me and the Seller have kept in touch and we are as close as brothers! I even moved to FL in 2005 to work for his company for some time!
The car received a complete transformation as seen by the pics and was returned to Florida when I moved there temporarily and then was brought back in the summer of 2006 when it was sold to my close friend (the one who went down to Florida to get the car with me). He drove the car for a summer and blew the transmission out of the car and parked it. He had sold the blower (Vortech A-trim) and had plans of upgrades and a 5 bolt conversion and much more… Till this day the car has been parked.
Now, The Infamous Project will be taking this car and giving it the face lift it deserves! It will feature a fresh Vortech A-trim with S-trim guts pushing 12psi, blow off valve, and power pipe. We will also be dropping this car down via Racecraft drop spindles, some MM caster/camber plates, 5 bolt conversion with possible 4 wheel disc. Some audio upgrades and a complete paint job to restore this car back to when it was fresh out of the booth!
The car as it sits has quite a few modifications, but TIP plans to take the car to show quality level with many little modifications, aesthetics and other enhancing mods. Such as 18″ Saleen Wheels, brake mods, and suspension, including a plan to have it sitting as one of the lowest Static Dropped Fox Body Mustangs around! Some say their cars are low.. but if you don't rub you're not low! Below is a list of what the car currently features:
The car as it sits has quite a few modifications, but TIP plans to take the car to show quality level with many little modifications, aesthetics and other enhancing mods. Such as 18″ Saleen Wheels, brake mods, and suspension, including a plan to have it sitting as one of the lowest Static Dropped Fox Body Mustangs around! Some say their cars are low.. but if you don't rub you're not low! Below is a list of what the car currently features:
1987 Mustang GT Convertible Specs
Suspension/Brakes/Wheels:
I am looking forward to this build as so much will be upgraded and modified allowing my friend to enjoy his car once again!!  Be sure to tell any fellow 5.0 enthusiasts about the build and if you have any questions or comments don't hesitate to send me an Email!
Here are the pictures of the car as I bought it back in 2003 until 2006 when I sold it to my friend. The car already looks sweet but there is room to make it perfect yet, and there is always room for improvement!
Jan 27th and it's day 2 of the Mustang Build! Some good progress in 2 nights of work. Got the car in the shop, stripped down of all trim, lights, spoiler, mirrors etc. Got the car jacked up on stands and completely block sanded down. Repaired the drivers side armrest and began repairing stone chips etc on the front bumper. Very happy with the progress so far! Lots of great stuff to come.
Jan 29th and the areas in need of primer were primed and block sanded. The front bumper is crack and chip free! Engine bay is scuffed down and the spoiler is block sanded. Won't take long to have the car prepped for paint next week. Tomorrow (Jan 30th) we will be installing the Vortech A Trim Supercharger so be sure to check that out. We will also be removing the engine harness as another that is in better condition will be swapped in.
Feb 1st and we're officially one month into the project. Aside from 90% of the body/prep work being done on the Mustang the custom fuel door has been installed behind the license plate area and piping routed to the fuel tank. I am going to try and find an elbow to tuck the main tube closer to the rear of the car. Moreover, the Vortech is bolted in place and the accessories relocated as well! Just need to get the proper bolts to get the crank pulley bolted on.
Well it almost feels like I am working backwards on Feb 6th, but at the same time lots of progress has been made! Got the trim primed, sanded and painted back to OEM satin black. Managed to give the car a final sand of 600 grit and painted up the engine components that were blue to get ready for our powder coated parts! Painted up some accessories, rolled the fenders and even managed to take out the front suspension!
Mustang is painted with 1 month left until the show (Feb 11th)! What an ordeal it was to find the right automotive satin black paint! PPG was the paint of choice and the matting effect was determined and mixed by myself with use of a matting agent in the clear coat. You can see the clear still applied shiny even after its 5 minutes of Flash time. After letting the car dry overnight a beatuiful Satin Black finish is what we were left with! I couldn't be happier. Be sure to check out all the information about laying this paint and process
HERE
Over the past 2 days, along with some other things, I have managed to complete most of the North Racecars rear disc conversion for the Mustang. I made sure all the parts were there and fitted them all with ease! Everything re-uses existing holes, bolts etc! I am truly amazed at how easy it is to put this kit on. The trickiest part is to cut and re-flange the brake line to make it a bit shorter to avoid having to bend it out of the way. I painted the brackets and plan to paint the calipers as well. Be sure to check back for more updated pictures.
Feb 20th was a huge day filled with all kinds of work in the shop and the 1987 Mustang GT Convertible It all started with the finalization of the trim install around the windshield and some other clean up items. Later on the new alarm was installed, but in-between all that work was some great progress! 1st off we installed the
Racecraft
2″ drop spindles and the SN95 brakes, rotors and pads. This allowed us to reinstall the FMS C Springs (1 coil cut) and get the wheels bolted on! Wow the front is LOW! MM CC plates are in need for some more camber
After the front was done it was time to tackle the rear of the car. The rear features the RARE suspension component for the LCA's (Lower Control Arms) otherwise known as DECH Grabbers. These grabbers mount around the existing LCA Mount and drilled/bolted in repositioning the mount point of the LCA down by about 3/4″. Please check the
NEWS
page for detailed info on this installation. In conjunction with the Grabbers a custom set of lower control arms were welded and boxed closed for more support and a custom coil over perch installed for adjustment for the coil spring.
With everything bolted up in place it was time to get the car back on the ground. With the CC plates in the front and some slight modifications in the rear. This car is going to look sweet! I am having a custom set of Grabbers fabricated which will actually lower the LCA by another inch. Allowing the rear to level out. It is also sitting a little higher as the stereo is not yet installed and no weight in the trunk.
So as of March 7th the Mustang is pretty much buttoned up and ready to go minus a really good detail! I managed to get a set of Caster/Camber plates installed which has given me a bit of room to steer. A fellow enthusiast was kind enough to provide me with a few different sets of springs which allowed me to get the perfect ride height out of the car that I was looking for! The challenge now will be trying to get the car up on a trailer to get it to the show! As you can see this car sits LOW. The engine bay is all bolted back together and looking great. The car just needs a complete detail!