1988 Mustang GT Convertible "Ladies"
1988 MUSTANG GT CONVERTIBLE "LADIES"
It's funny how so many cars have the most interesting stories if only they could talk, or write. I guess that's why us as enthusiasts take the time as ghost writers to tell their stories! So re-winding back to 2004, a good friend of mine and I had managed to pick up this 1988 Mustang GT Convertible that was a roller outside of Orlando Florida. The car was a drag car at some point and came as a full roller just needed an engine and transmission. All the body panels were still original with the exception of the hood that was swapped out, I would assume that there was a big cowl hood on the car at some stage. Here's a few pics below of how the car looked when we got it!
Luckily the top was in good condition and most importantly, the car coming from Florida meant it was rust free. We had originally bought this car to slap a motor in and flip it but then the "twist" happened. A friend was visiting from Canada to escape the cold winter, saw the car and bought it as-is from us and took the car back home to Canada with him. My friend and I were happy that we made a couple hundred bucks and didn't have to lift a finger!
The following year came and the friend who bought the car was discouraged to put the car back together and had his eyes on my
1987 Stalker Convertible
build that I had. So for those of you who have read my other posts, this was Chuck and we made the deal to trade for my 87 Convertible + Cash on his part. So as you guessed, I had a new project in my hands! I didn't waste any time on this one as summer was approaching and I wanted something to enjoy and to later sell for some profit. The project name was "Ladies" as a bright yellow convertible would be ideal for any owner to turn the heads of the Ladies and hopefully take them for a nice late night summertime cruise!
Luckily, I managed to source the following parts quite quickly:
Complete 5.0 engine to drop in
4 cylinder manual transmission with shorter gears
Complete leather black interior
Saleen Wing
Cobra Rear bumper
Drop Springs
Flowmaster Exhaust
ROH-ZR6 wheels
First thing was of course to get the car running and to bolt on the exterior goodies before sending the car for paint. The engine was in great shape so while it was out I accented some of the parts with Yellow to go with the theme of the car. I really did luck out with finding Cervinis bumpers locally in Ontario (Stalker front and Cobra Rear), they had never been installed and the fit was really good. Here are a few pics of the car running and driving before getting sent off to paint.
Next was time for paint. Luckily the body was pretty straight so it allowed time to focus on important things, like shaving the door handles and locks! Everything got welded up and smoothed over for a nice straight and consistent look. I also decided the car needed a more aggressive look from the front so managed to find a Ram-Air style hood which required quite a bit of prep but we got it straight in the end. You will also notice the "STANG" mod in the side skirts which was also done on my 1987 Convertible as a trademark touch! A couple coats of high build primer and block sanding were then done to make sure that the body would be nice and straight!
The car received a beautiful Viper Yellow paint job with House of Kolors white ice pearl (leftover from my
1991 Dech Coupe
). The whole car was primed, block sanded prior to paint and then received a coat of white sealer that would help seal up all of the body work underneath and also allow for better coverage of the Viper Yellow base coart. Dupont base and Chroma Clear 9800 clear coat were used on this car as I wanted to make sure there would be a long and durable finish. Here are a few pics throughout the paint process. It was done in a well ventilated shop that was wet down for hours prior. It's amazing how a paint finish can turn out even if you don't have a paint booth. Not one run in the clear or dirt. A good rule of thumb is that if you think you have cleaned and prepped enough, go over everything a one if not two more times, it's worth it.
This thing shined beautifully in the sun! With the black interior in the car this thing turned heads! I can't say the ride was very good with how low the car was with that crazy roll cage that was inside. I later cut the cage out and allowed the car to flex a bit more which was a night and day difference for ride quality on the street! You will also notice that I borrowed my ROH Drift R wheels from my coupe for a bit just to try out the "black and yellow" contrast.
I enjoyed the car for some of the summer months and it was a great build in a short amount of time. Even Chuck came to visit in my old car for a bit, nothing like having 2 Stalker Convertibles in one driveway! – One
1987 GT Convertible in Black – "Stalker Vert"
and the 1988 Mustang GT Convertible in Yellow – "Ladies"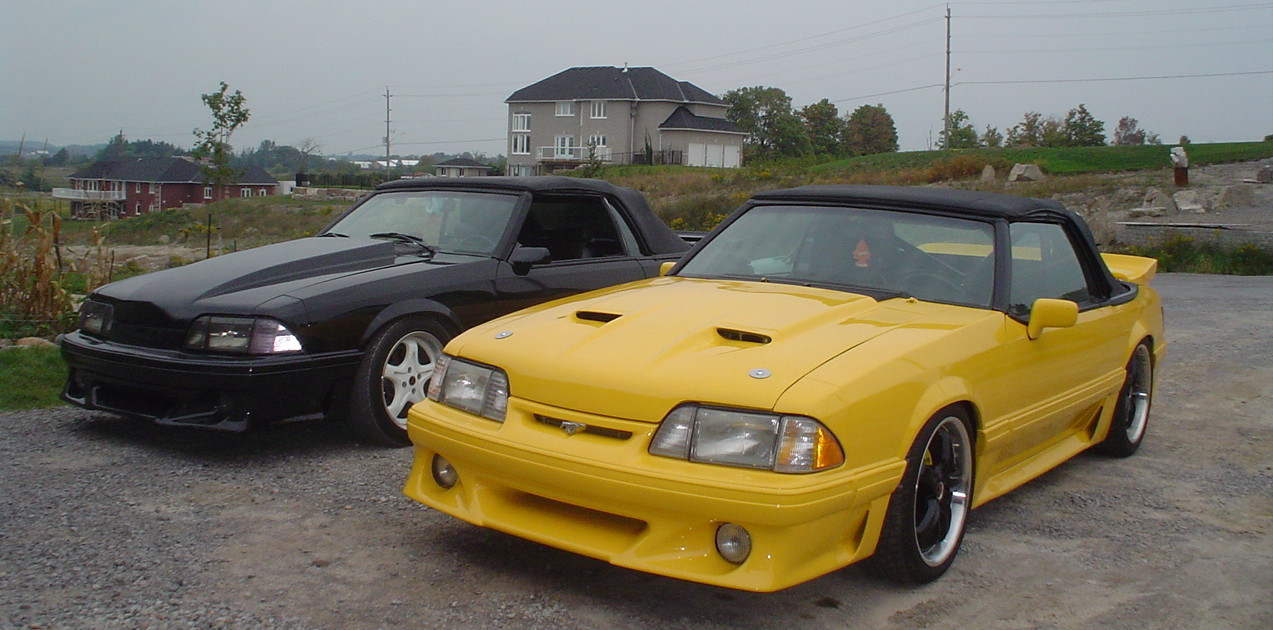 The better news is that this car is still on the road today and being enjoyed by a fellow Mustang enthusiast! He is still sporting the ROH ZR6's too which I don't blame him. It's always nice to see that after more than 10 years a build is still out there and being enjoyed.