One of my most "famous" builds was my 1991 Dech Coupe and here is finally a page dedicated to the build. For me, there was always something about a Foxbody Mustang Coupe with a Dech kit on it. Back in the late 1990's I had a summer job where at the time, I owned my first fox coupe which was a 1990 Silver on loaded black interior! This was a dream car to me at the time and I still remember the first day I got it. In fact, it was the inspiration for my latest 1993 Dech Coupe Build!
Back in 1999, a guy I worked with loved the car as much as I did and set out to find himself a Foxbody 5.0 for himself. After a few weeks he showed up to work with this immaculate all original 1991 lx coupe. I was so jealous of how clean the car was, it was an original owner car that had been meticulously maintained and documented. My colleague scored it for $4000 CAD at the time! He owned the car for a few years and unfortunately it had been broken into at one stage which resulted in the passenger door needing to be repainted. At that time he opted to paint the black moldings body color as the were fading anyways.
Some time passed, and a few convertible builds later, I decided I wanted to build a coupe so I reached out to my old co-worker. Just my luck, he still had the car and was willing to sell! I went to see it and it was still in it's immaculate condition which started the negotiations. It's funny how you can tell how clean a foxbody is just by how the drivers door opens and closes and his one did it perfectly. He sold it to me in the end for $4500 and I wasn't going to complain at all! I knew all the cars history and it was original and most importantly rust free.
I got the car home and the process began! Here are a few pictures of the day I got the car, even the interior was immaculate:
Full Black Interior
Recaro Seats
White face gauges
Clear Headlights
Clear Taillights
Lowering Springs
ROH ZS Wheels
Dech Kit
Ram Air Hood
Custom Exhaust
Frame Connectors
So the first build began and I didn't want to paint the engine bay and door jams as the car was so clean. So I just had the kit/hood installed and painted the car on the outside. It looked great and I drove this car everywhere and everyday!
DECH Springs
DECH Grabbers
DECH G-load Brace
Tokico Shocks and Struts
Cobra intakes
Cold Air intake
65mm Throttle Body
Underdrive Pulleys
MSD Ignition/Coil
3:73 Gears
Sony Stereo System
A Pillar – Auto Meter Gauges (Phantom)
Upgraded later to ROH Drift-R wheels in 18″
DECH Grabbers
and a custom coil over set up I did with the use of the factory lower control arms. This allowed me to adjust the rear of the car accordingly in case I wanted more of rake look or going for that full out slammed look. The setup worked amazing well and in fact, I replicated it fully on my
1987 Stalker Vert
when I built it for the launch of The Infamous Project. I also used to play between the different wheel setups at this stage as I was tossed on what I liked better between the white or the black centers!
Greater Toronto Area Mustang Club
(GTAMC) booth as the center of attention as the only foxbody!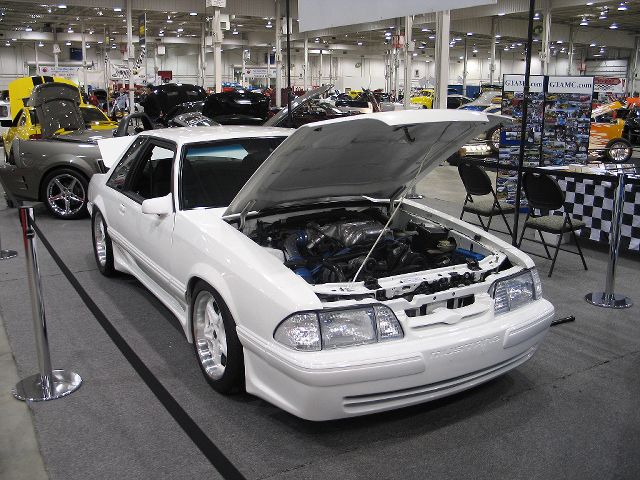 It was the longest I had ever held onto a foxbody stang but in 2007, it was time for something different. I had started getting heavily into e36 Bmw's and had owned a few Ford Lightnings at this stage. Out of nowhere someone offered to buy the car for not only full asking price, but he came with cash and let me keep the parts that I wanted. I am not sure where the car is today but I hope it is being enjoyed and taken care of the way I did. This was a beautiful build that had quite a bit of history and I still find old pictures of it all over the internet. It may not be everyone's taste for a foxbody but I know it turned a lot of heads and I enjoyed all of my adventures across Ontario Canada and down to Florida USA and back again! Below are a few pictures later sent to me from the person I sold it to.