1993 DECH Mustang "TIP-DECH Coupe"
– 1993 "TIP-DECH Mustang Coupe" Project Successfully completed in Summer 2017
Back in late 2015 I had started looking to build another Coupe and I had a very specific set of requirements which resulted in my 1993 DECH Mustang build. I wanted a clean base with all matching VIN numbers and really did not want to have to do a color change with the paint. So the first requirement is that the car had to be Silver, I would have however settled for Black as it is the best color to work with in terms of color changing. I knew that I wanted to do the following mods:
Authentic DECH kit -I had already bought the kit before the car as I had got a hold of Mr. Derek Hanson (founder of DECH Motorsport) and convinced him of my project so he was kind enough to take his original molds out of storage and make me an authentic kit
Black Interior is an absolute must on a Fox Body, so if the car I would chose didn't have one, then I would have to convert it.
ROH Wheels – hands down probably one of the most favored wheels on Foxbodies during their time. From the ZR-6 to the ZS and Snypers. However, I have gone in a different direction. I will be doing a custom 3 piece ROH Modena set up in 18″.
Air Ride – We all know I love slammed cars that ride low and are impractical. The problem here is that this car build is going to be so incredibly clean that I don't want to worry about repainting bumpers or pulling fenders etc. Details on the kit and specs are also to be revealed later by RideTech.
Brakes – Need something nice to show off the area behind the narrow spokes of the ROH Modenas, I have been fortunate enough to land a complete SSBC Upgrade
Built Motor – How can you have a Mustang without performance upgrades making some good power and producing a head turning sound so then they can see how sexy the car is? Specs on this you will see below.
So what was it that I was trying to achieve? To build a newer, tastefully modded version of the classic DECH Mustang from back in the early 1990's. I have always loved DECH Mustangs as you can see from my previous projects. This time however, I wanted to make sure I build a car so clean that I could present it to Derek Hanson himself for his endorsement!
In my hunt, I had posted up a few "WANTED" posts on the web looking for a clean base. I had posted on www.gtamc.com a Greater Toronto Area based Mustang Club where I knew I had access to alot of fellow members. To my surprise I received a PM from a not very active user indicating that he believed he had the car I was looking for! After some back and forth we made a deal, he stored the car for the winter for me and I knew I had exactly what I was looking for. A mint 1993 Silver coupe with black interior with only 25,000 original kilometers.
Here you can see some initial pictures of the car and pictures of the car being picked up the next spring
Exterior
All body panels hold their original VIN stickers
Cobra Grill insert – Dugan Racing
Dugan Racing cowl hood
93 Anniversary style spoiler
Mint quarter window moldings!
Interior
100% stock with tweed
Hidden switches for line lock and elec fan
Battery relocated to the trunk
Suspension/Brakes
BBK B Lowering Springs
Kenny Brown G Load brace
Kenny Brown Strut tower brace
Southside control arms
Subframe connectors
4 wheel disc brakes SSBC kit (4 lug)
New SN95 spindles, Cobra Calipers, 5 lug Moser Axles and solid SSBC rotors included with the car
Drivetrain
Crane Camshaft
Aluminum X307 Heads
1.70 Roller Rockers
GT-40 tubular intakes -original first generation (made in Japan) G
24lb injectors
Acufab 75mm throttle body
Pro M 77mm MAF
Ford turbulence shield (rare piece)
Pro-5.0 shifter
FMS 3.55 gears w/Auburn Diff
Nitrous Dry kit w/2 bottles
BBK Ceramic Shorty Headers
Dr. Gas X Pipe
Dynomax Catback
Ford Racing Wires in blue
Accel 300+ digital ignition and coil
MISC
Torque Thrust Wheels17″ Bullet rolling wheels
Aluminum Driveshaft with Lakewood Loop
All original stock take off parts
A lot of money was spent on this car and it was time to get to work on it. Clearly the Dugan Racing hood was dated and not a piece that I wanted to keep. I much rather have the sleek look of the stock hood knowing that I was going to remove the spoiler. I will say that I had to weld the holes up in the trunk lid and repaint it. The other portion of the car that needed to be repainted was in fact the door moldings. As some people may know in 93 for some reason you will notice on Silver and White colored cars that the moldings go a "brownish color" if you look closely at the pictures of when I got the car you can see this molding discoloration.
So onto the next step, getting the DECH Mustang aero kit perfectly fitted in a way that would make sure that it was 100% fitted and removable. I didn't want to commit to molding in any pieces to such a mint and virgin car. The kit although made from the original DECH molds required a lot of fitting, sanding, building, priming to get it to fit perfectly. The results speak for themselves. Here are a few pictures of the process.
Be sure to read more about this kit on my blog posts
There is also a full write up on the installation on my blog posts
The finished product!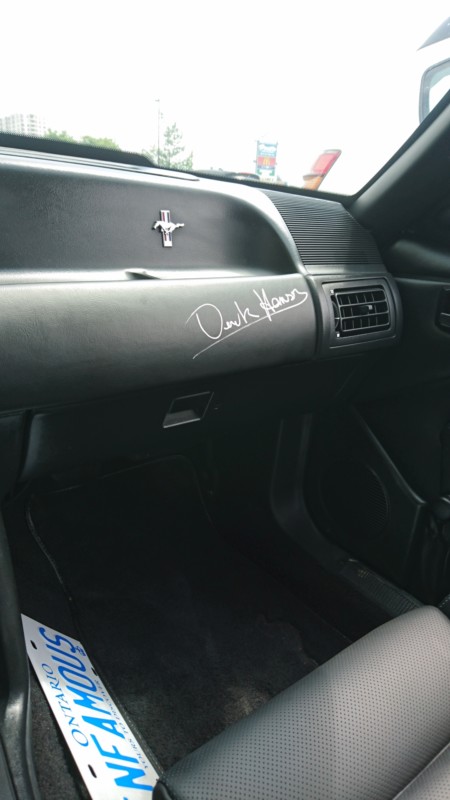 Walk Around Video