1989 Saleen Clone Foxbody Mustang in Sonic Blue
So many of you want to know more about the 1989 Saleen Clone Foxbody Mustang in amazing Sonic Blue! So here is some of the background. It was first brought to my attention when I was purchasing my
1993 Silver coupe
, as the seller told me about his "Fathers Car" which was the Saleen Clone. Both cars were in fact for sale however I was focused on the 1993 as it met all of the requirements for my build.
After purchase I kept in touch with the previous owner (as I normally do) and he reached out asking if I could help his dad sell the 1989 Saleen Clone Foxbody Mustang. I was more than happy to reach out to my network however the car wasn't presenting as well as it should. The car sat too high, had bullit wheels which didn't compliment the Saleen body kit and the headlights/taillights were just giving an overall bad first impression of the car.
A number of months went by and a "winter" where the car was stored for the season when I decided to reach out and purchase the car and put some of my Infamous Project touches on it. The name "Blue Brother" was fitting as the car was like a relative to the 1993 car and figured that since they would be re-united that the reference was suiting. A friend of mine picked the car up as I was still living in Dubai so the purchase like the 1993 Silver Coupe was completely sight unseen for me. My close friend had no problem enjoying a nice sunny day and 3 hour drive back home in the car where feedback was that it performed amazing. (Here's a pic from the drive back he sent me)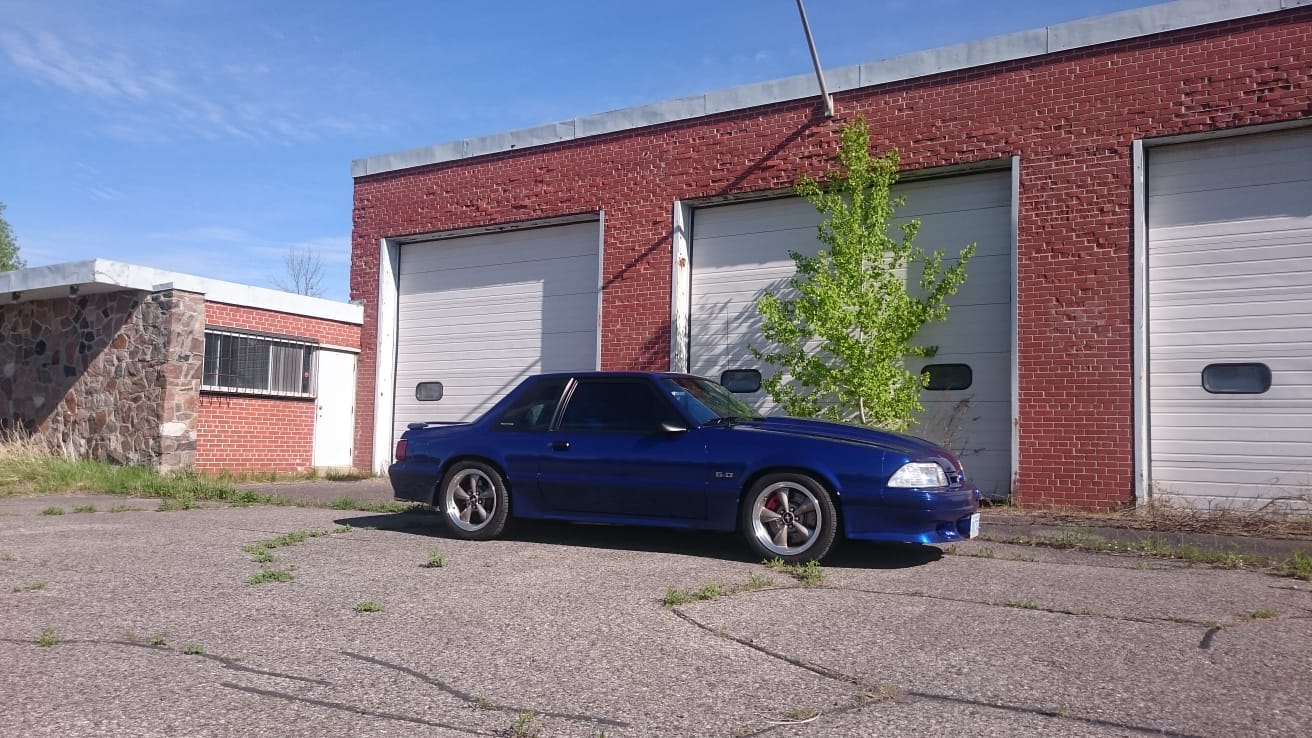 The car overall was great and I was very happy with it the first time I got to see it in person. The Sonic Blue paint looked really nice and if you aren't aware of Sonic Blue check out this thread https://www.svtperformance.com/threads/lets-talk-sonic-blue-paint.964629/ This 1989 Saleen Clone Foxbody Mustang in Sonic Blue also came with a serious set of modifications done to it already which consisted of:
Here's a picture of the Engine Bay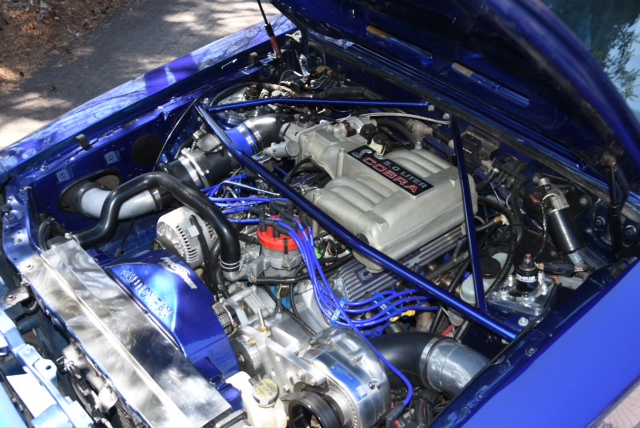 Otherwise the car was pretty plain on the inside with a regatta blue interior with NO power options including no A/C. Body had about 150,000 kms (95k miles) and had clearly never seen any winters. All of the trim and the moldings were in great condition and the Sonic Blue paint was done professionally by a Ford dealership.
So of course I can never leave anything alone and a few modifications were planned and I even fooled around with creating some "Hulk" style headlights just to stir up discussion online.
On one of my trips back to Canada in 2019 I really got to tackle things on the car and the results were fantastic. The TIP personalization includes:
As you can see the look of the car has been completely transformed with just a few modifications.
So here are some interesting facts about the car before and during my ownership!
The car has since been sold and has undergone some other modifications for the buyer. A full black interior conversion and full stereo installation! – These mods were captioned on Season 2 of The Infamous Project. Be sure to check them out: SEASON 2
Tags: Foxbody, mustang, pro charger, saleen, saleen clone, sonic blue, supercharged, the infamous project