Yes 5×112 wheels will fit on 5×114, let me tell you how I know!
So for the past while I have been looking to change up the wheels on the TIP Stalker Vert. I was perusing eBay not too long ago and I came across something very rare, a set of staggered 18″ Borbet Type A wheels! Not only is this a rare find but they were literally brand new and had never even had tires mounted on them before. For those that are old enough, you'd know that these are a serious classic look especially on a Foxbody Mustang. However, they were only made in 17″ for Mustang fitment. These 18's I found were Mercedes fitment -66mm hub with a 5×112 bolt pattern, let the research begin.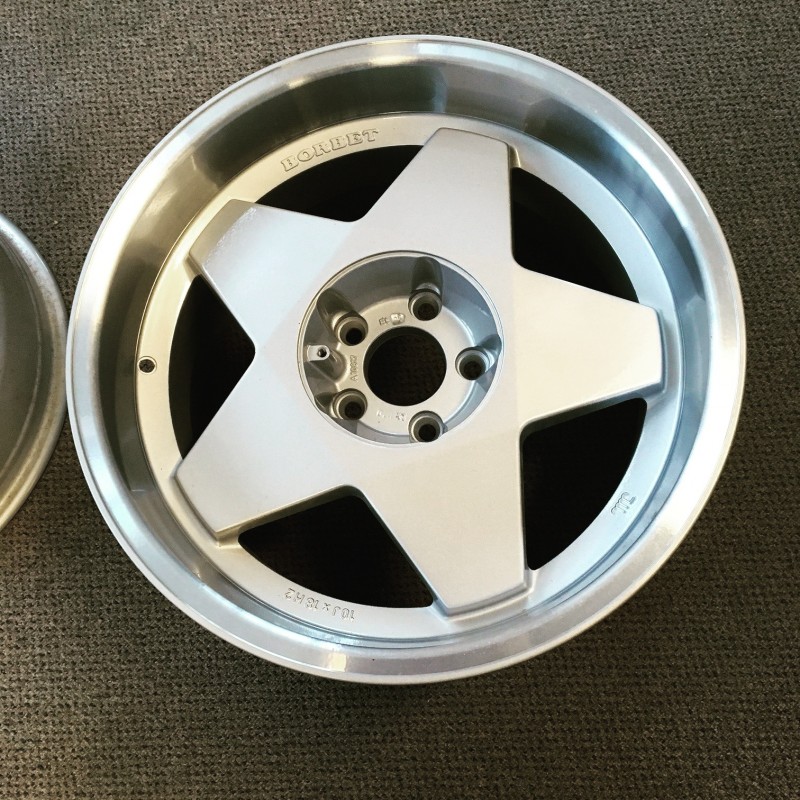 So the first item to look at was to see if the offsets of the wheels would accommodate my car should I find a solutions to make them fit. The first thought would have been the use of adapters with the correct hub bore and bolt patter to fit however the offsets of the wheels was pretty aggressive so I needed to find a way to make them bolt up to my car directly. The front wheels were +26mm at 18×8.5″ and the rears +16mm at 18×10″ which a beautiful lip as seen in the picture above!
Second thing was to find out was the hub bore. As my convertible was converted to 5 lug with use of SN95 spindles and Ranger Axles as this kept the stock track width compared to factory. With the old Saleen wheels at 18×9″ all around with +24mm it was aggressive in the front and I had to run a lot of negative camber to avoid rubbing. In any case with this set up my hubs are 70mm. As the Borbets are 66, this is not a huge problem as any good machine shop could open up the hub bore by 4mm to fit. This was done successfully by a shop in Austin Texas. I provided them a HUB from autozone so they had the piece as a sample for fitment.

Third step, how to get the bolt pattern correct, most people would say "re-drill" the wheels, I really wanted to avoid this scenario, so with a little research I found out about this nifty solution – the Wobble Nut aka PCD Variation Nuts (bolts are also available). Wobble Nuts, are a nifty little invention that allows the inside of the nut to "float" off center by up to 2mm allowing a slight offset to the threads where the housing of the nut will set itself properly in the hole of the wheel. P.C.D. Variation Nuts were meant for exactly this, someone wanting to use a 5×112 on a 5×114.3 car or vice versa! Below you can see how a PCD Variation Nut works

I did have some issues finding Wobble Nuts in 1/2″ UNF thread pitch as most available out there are Metric. But I found a place in Germany with very reasonable pricing who literally over-nighted the nuts to me via DHL. They were sourced through Performance Alloys.
So as I wait to receive my center caps for the wheels (unfortunately the wheels didn't come with them). This is the end result, I have a say 18 inch Type A Borbets on a Fox look hot! So can a 5×112 wheel fit on a 5×114 car? The answer is yes, especially if you don't require hub bore modifications. In case the hub bore of the wheels you wanted is larger, you can use hub-centric rings to ensure your wheels are seated and centered correctly on the hub.
*Updated with pics of the center caps installed!

Tags: borbet type a, fitment, Foxbody, mustang, pcd variation bolts, wobble bolts, wobble nuts